---

The primary mission of the Chesapeake Region Chapter of the Community Associations Institute (CRC-CAI) is to increase public understanding of condominium and homeowner association governance, to provide guidance to those board members and managers working on behalf of these communities and to provide a forum for networking among the business partners and consumers within the industry.
The Chesapeake Region Chapter of CAI supports association board members and other homeowner leaders, community managers, association management firms and other business partner professionals who provide products and services to associations by:
Hosting educational seminars, workshops, conferences and programs which services over 1,700 homeowners, managers and business partners a year

Publishing a quarterly magazine (The Beacon)

Offering the opportunity to highlight business partner services by advertising opportunities and annual and event sponsorships

Hosting an annual Business Symposium and Expo providing members an opportunity to network with other chapter members to learn about the latest products and services available to associations locally 

Providing the most comprehensive education programs available that lead to professional designations for community managers and other industry professionals

Advocating on behalf of common-interest communities and industry professionals before legislatures, regulatory bodies and the courts
The Chesapeake Region Chapter membership covers the northern portion of Maryland all the way to the Eastern Shore of Delaware (highlighted in blue). Our diverse membership and partners is reflected in our various educational seminars and material.
Benefits of Membership 
Homeowners & Board Members—Education (Free HOA Guides), updated information on laws, ability to communicate with other HOA leaders at the Chapter's in-person events throughout the year (Homeowner Seminars, Breakfast Seminars & Annual Symposium & Expo).
Managers—Free manager guides and publications through the national CAI website, access to the national CAI Job Market, continued education credits through Chapter seminars, networking with other managers and business partners, ability to work towards additional certifications/credentials.
Business Partners—Our business partner members and sponsors can build a strong network with local connections of the over 400 managements companies and individual managers as well as close to 600 homeowners at Chapter events. Chapter events also provide educational opportunities to earn an educated business partner distinction.
Sponsorships
There are multiple sponsorships available in the Chesapeake Region Chapter through our Diamond, Platinum, Gold, and Breakfast Seminar Sponsorships (see table below).
Click here to see our full sponsorship information for 2023!
Additional sponsorship will be made available throughout the year. 
Click here to become as a 2023 Sponsor today!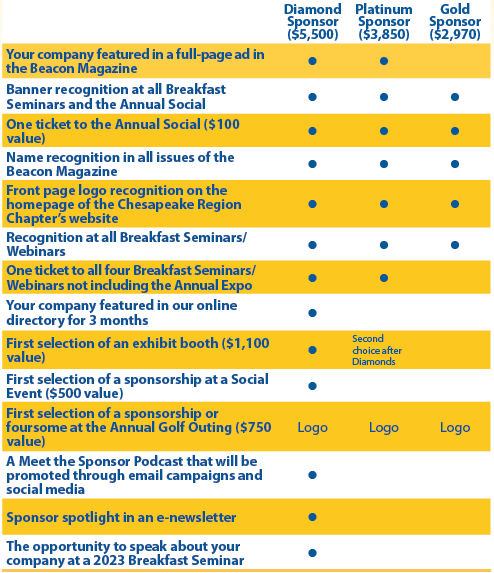 ---